Konnos Bay
Konnos Bay - Cape Greko
Situated on the Protaras road approximately a mile east of Ayia Napa, Konnos Bay is a Blue Flag beach with breathtaking views, water sports and nature trails that take from 30 minutes to 3 hours, which are well worth doing for the fantastic coastal scenery along the way.

The picturesque beach at Cape Greco, on Cyprus's south-east coast, is known as Konnos Bay and offers an escape from the crowds of Ayia Napa.




Why go?A picturesque Blue Flag beach, a mile east of Ayia Napa on the Protaras road, close to the dramatic, rugged coastline of Cavo Greco, a national forest park with excellent nature trails. Konnos is sheltered from the prevailing winds, despite its wide sweep. Admire the sunsets, and look out for the starfish in the amazingly clear water.




Who goes?Those wanting to escape the 18-30 scene of Ayia Napa, and the heavily overpopulated beaches such as Nissi and Makronisis. There's plenty of room for everyone.





What is there to do?Apart from the obvious swimming and sunning, try out almost any water sport or hire a motor boat or jet ski if you must. Sea caves abound around Cape Greco, best experienced from the many boat tours on offer.





Bites and barsBy Ayia Napa standards, the beach is quiet, and overlooked by a café. Go a short distance in any direction and the choice is almost unlimited.





Getting thereBy car from Ayia Napa take the Protaras road for about a mile. Larnaka, 25 miles away, is the nearest airport.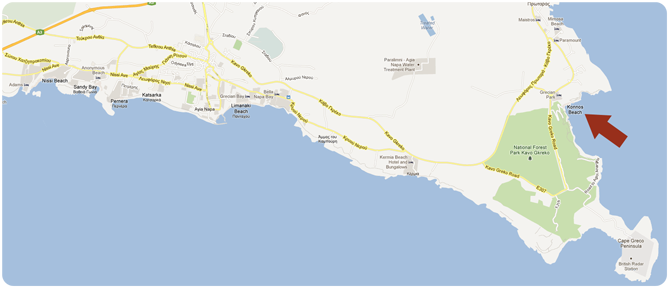 Featured Villa 011, Konnos Bay
Stunning 5 bedroom with a new level of luxury
This holiday villa offers the ultimate in comfort and indulgence with daily housekeeping

MORE DETAILS