Pernera
Pernera is a small yet pretty harbour town on the eastern coast of Cyprus. It radiates a relaxed and easy-going atmosphere, so typical of the Mediterranean. The new floodlit boardwalk and coastal path means Protaras is now less than a 20-minute ocean-side stroll away from Pernera, day or night. The local water park in Pernera is ideal for families with its water rides, eateries and relaxing areas.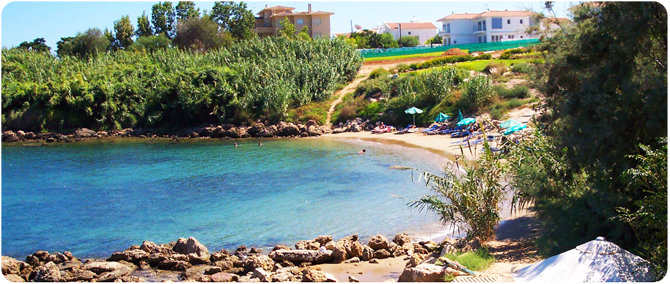 Pernera's main street winds its way down to the sea front, lined with many places to have a quiet drink and dine to your taste. The surrounding area is rich in sandy coves and beaches, ideal for soaking up the sun. Water sports are also popular in the warm and clear Mediterranean waters surrounding the town, with many companies operating along the sea front. Excursions by boat can also be arranged from the harbour. Pernera is ideal for families and couples who desire a relaxing and enjoyable holiday.
Pernera has easy access to the towns of Paralimni and Deryneia, and the resorts of Kapparis, Protaras and Ayia Napa. Although Pernera has supermarkets, restaurants and bars, we feel that a car is really essential for maximum pleasure.
Beaches in the Area
Golden Coast Beach/Louma Bay Beach
Entering Pernera, to the left of the Paralimni Harbour and Fishing Shack, is a broad open bay containing the two beaches of Golden Coast and Louma Bay, directly opposite each other. Both are wide spacious beaches with golden sand.
Pernera Bay Beach
Pernera beach itself is one of the nicest sandy beaches on the eastern coast of Cyprus. It also has its own dive centre, which offers everything from dives for beginners and fish feeding dives to dives to the Zenobia wreck, which is one of the world's top diving wrecks. Whilst diving here you will encounter reefs, caves and no end of fascinating marine life including parrotfish, rays, sea bass, groupers and eels.
Polyxenia Beach
A grassed area leads not only onto a lovely sandy beach but it also brings you to the beginning of the Boardwalk into Protaras, passing coves of sandy beach every now and then. The walk should take about 20 minutes, depending on how fast you walk, how hot it is and how many bars and restaurants you stop in along the way.
Marlita Beach (Potami Bay)
Just along the boardwalk in Pernera before you come to the end at Polyxenia Beach, is Marlita Beach. A sandy little beach with gently sloping bay.

Best Restaurants as recommended by RentPrivateVillas's Director
Kalamies Fish Restaurant
Cuisine: Fish, Meze and local dishes
The best restaurant in the area with a wide range of excellently prepared dishes. The restaurant serves all the traditional Cypriot dishes ranging from dolmades, kleftico, and tavas etc. The seafood is very tasty, the sea bass and kalamari are to die for! Eat your food by the beach, overlooking a small traditional church, during sunset, at the most romantic setting
Alati By The Sea

Cuisine: Mediterranean
Alati by the Sea is a fine and unique luxury restaurant ideally located in an impressive natural seaside setting. With its luxurious effortless neat aesthetic, its distinctive decoration, supreme service, and respect for local traditions, Alati is presented as an unmatched experience to its visitors. Featuring a modern and casual Café, private sun lounges, a Mediterranean gourmet restaurant, beach bar, Alati stands out by offering the complete island indulgence package. Alati offers the ultimate daytime dining experience. Dine on plush beds a few meters from the beach or on our covered dining area. Relax and escape through the breathtaking panoramic views and enjoy the summer vibes of Protaras.
La Cultura Del Gusto
Cuisine: Italian
La Cultura Del Gusto is a beautiful Italian, Mediterranean, Steak house serving prime cuts of beef and Angus steaks. The surroundings are excellent; food is no way limited with an extensive choice to the menu.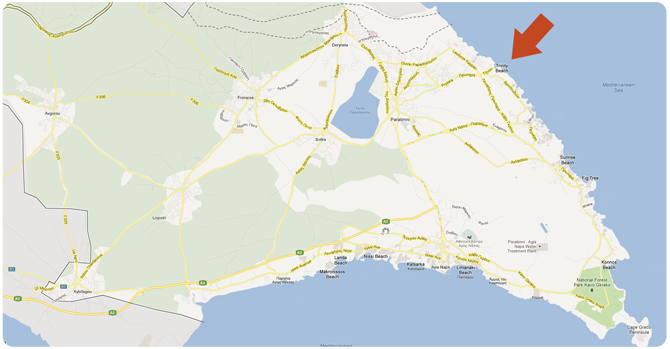 Featured Villa 165, Pernera
New 4 bedroom Villa on the Polyxenia complex in Pernera
4 bedroom villa close to bars and restaurants in Pernera with wi-fi access

MORE DETAILS